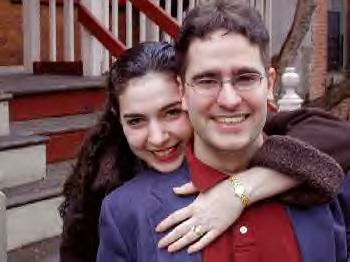 Marni Pont O'Doherty
We have set up this tribute page in honor of Marni Pont O'Doherty. She has been missing since the terrorist attack of September 11, 2001 and is now presumed deceased. Marni was 31 years old. She is pictured above with her husband, Joe. A bank analyst at the Keefe, Bruyette and Woods firm housed on the 89th floor of Tower Two, she apparently did make one phone call after the first building was hit, indicating her safety. However, she has not been heard from since. A year after the attacks of 9/11, Marni still remains a tangible presence and is greatly missed.
Marni's story has been publicized in various locales: Louisville, where her husband has family (click here for a followup story, from 9/11/02); Chicago, where a dear friend brought her story to the Chicago Sun-Times; and MSNBC, where her photo is listed in their missing gallery. Her profile can be found in the 9/11 profiles run by the New York Times as well. Newsday has a profile of Marni as well as CNN.
If you would like to honor Marni, the family has asked that in lieu of flowers, contributions be sent to the NYC September 11 Fund:
The September 11th Fund
c/o United Way of NYC
2 Park Avenue
New York, NY 10016
(800) 710-8002
Keefe, Bruyette and Woods is publicizing their struggle in the aftermath of 9-11 in a new book, "Triumph Over Tragedy". The proceeds of the sale of this book will go towards the KBW family fund. Not only will you find the story of the survivors of the tragedy from the firm where Marni worked as a Senior Vice President, but you will also read profiles of those whom the company lost. Information on "Triumph Over Tragedy" is available on KBW's website.
Marni's secret (perhaps not so secret) guilty pleasure was her fandom of Rick Springfield. Her wit and wry sense of humor has made her a friend to hundreds, possibly thousands, of people who never met her. A bit of the tune "Jessie's Girl" was played at her memorial service.
Rick Springfield has dedicated a song to Marni at each concert he has played since the attacks, even a year later. He still shares with the crowd the story this fan who brought the attacks to a personal level for him. He vows to "not let the terrorists win" by continuing to perform and entertain, all the while remembering what we have lost. He has been very deeply affected by her story and sends his love and prayers to her family and friends.
The RLS Mailing List conducted an online fund drive to benefit the American Red Cross. Donations were in excess of $16,000 and will be donated in Marni's honor. Rick Springfield has offered to match these generous donations on behalf of a beloved fan.
A message board has been set up for friends of Marni to come to express their feelings. The hundreds of messages there are a tribute to the girl who touched many she never met, and made those who did meet her never forget her. You can find it here:
View Guestbook
Sign Guestbook
"My love and prayers to everyone and to Marni O'Doherty and her family. " Rick Springfield